Player Movement Permission Form
---
OWHA Player Movement / Tryout Policy
OWHA Player Movement / Tryout Policy "Permission to Tryout" forms must be filled out and signed by a designated executive member of the player's current association/team and presented to the association/team for which the player wishes to try out before she is allowed on the ice. Failure to comply will result in a minimum two (2) game suspension for the offending player and/or head coach.
OWHA Player Movement / Tryout Policy
OWHA TAMPERING POLICY Available on the OWHA website (www.owha.on.ca), under Forms and Policies via the Member tab.
OWHA TRYOUT UPDATE
OWHA tryouts for the 2023/2024 Hockey Season may commence at 12:01 am on Wednesday, April 19, 2023, and end at 11:59 pm on May 31, 2023. Notwithstanding the above, OWHA Associations may run internal evaluation practices for their 2022/2023 registered participants ONLY (players and team staff) for the purpose of supporting and retaining players to hockey. It is important that these activities support maximizing game and practice time for ALL players in the association.
IMPORTANT NOTE
OWHA Members are to follow OWHA documents, policies, and procedures. These should not be confused with materials issued by the OHF, HEO, HNO and other minor and junior hockey associations.
Information regarding tryout package setup on RAMP will be distributed to the association registrars in the coming weeks. • Information on tryouts for the U9 and U11 Divisions will be circulated by the OWHA in January 2023.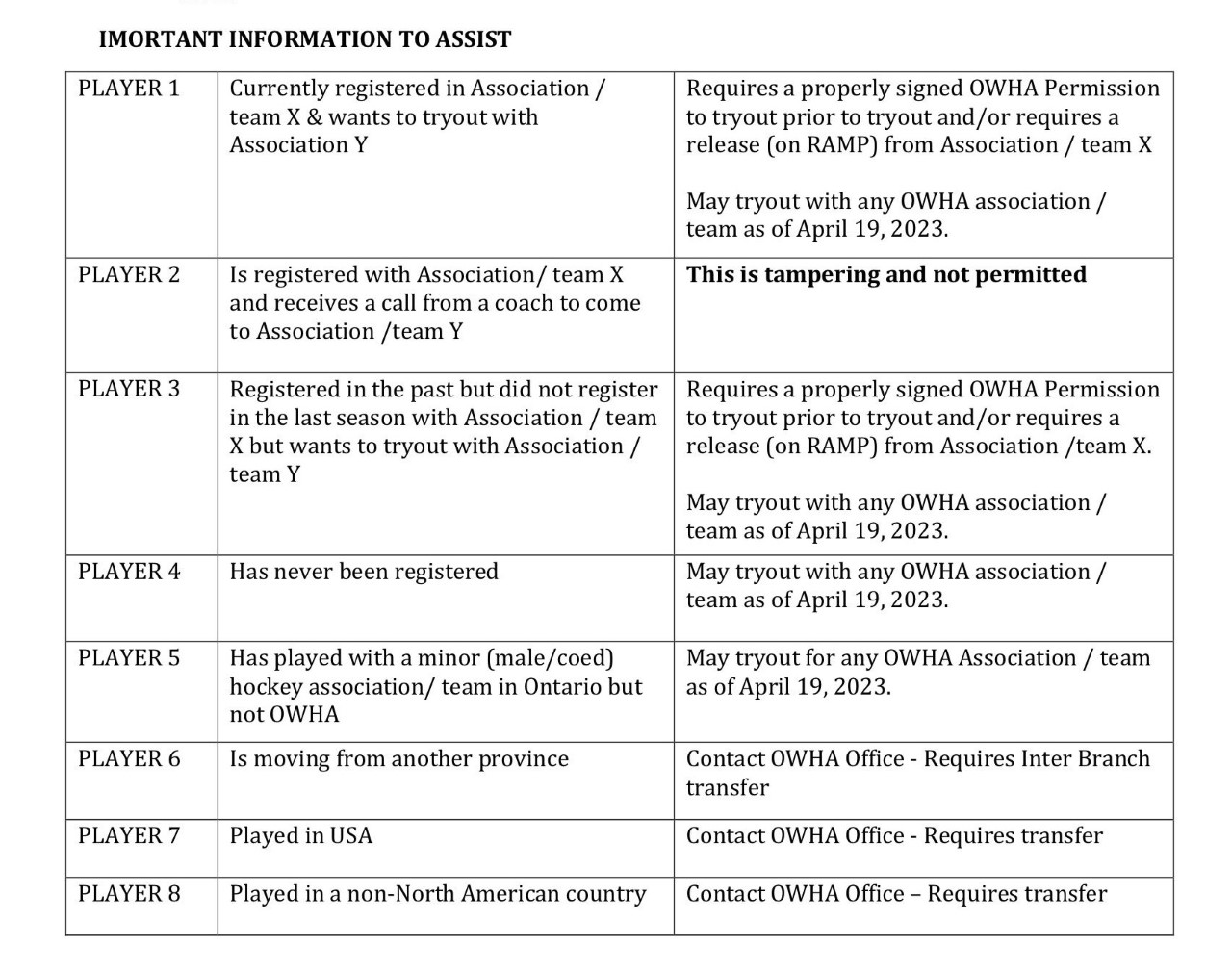 https://cloud.rampinteractive.com/collingwoodgirlshockey/files/2023%20Tryout%20Permission%20Form%20Final.pdf