Lightning Senior Tournament Team
---
---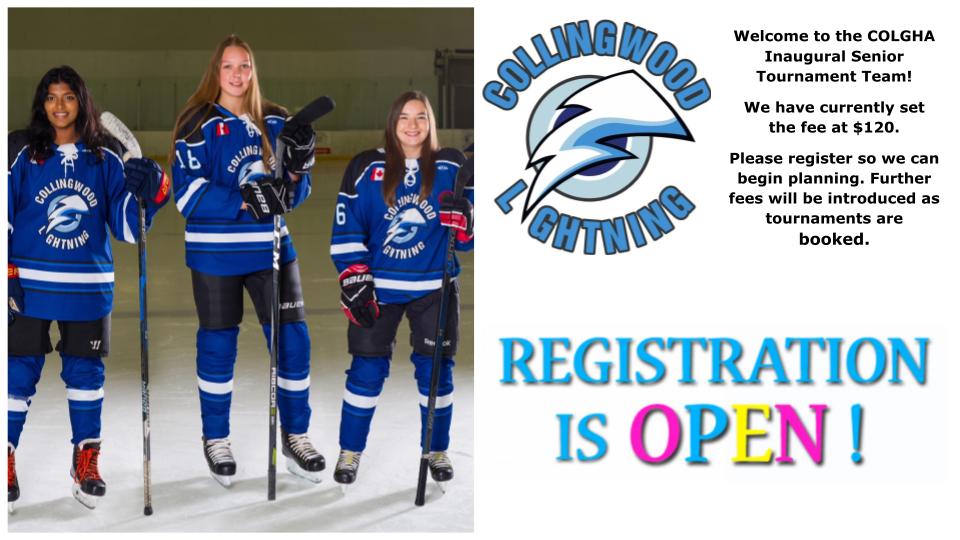 ---
Welcome to the COLGHA Inaugural Senior Tournament Team!
Senior B Lightning! This is a pilot team for the Lightning this season. It is an open age division for players (over the age of 18). The $120 registration fee covers player insurance, team fee, staff insurance and 6 ice times and exhibition games, based on a full roster, whether you attend or not.
Exhibition games and tournaments will be decided and agreed to as a group. You will split the cost of these expenses among your teammates that can attend. Essentially, you pay for what you use. We believe this team will be best as a tournament team for the first season.
The group met and have chosen a couple tournaments. We are looking for another 4 players, so if you know any ladies that want to continue to play competitive hockey without the weekly commitment, please have them register ASAP. Registration will close October 21st.
First tournament, Barrie Sharkfest, November 18-20th. Cost $100/player.
Second tournament, Orangeville Sweetheart, January 27-29th. Cost $100/player.
Third tournament TBD, either Provincials or Brampton Canadettes in April.
The group has requested one ice time per month, plus a couple exhibition games. Ice times will take place the odd Thursday at 8:30pm and Sundays late afternoon, in Collingwood, times TBD.
You do not have to commit to every tournament or ice time, but we cannot issue refunds once paid.
The first tourney package is ready for purchase through your registration portal. Please log in to your account, purchase the package and either make a payment by credit card or e transfer to collingwoodgirlshockey@outlook.com
Link to log in; https://www.rampregistrations.com/login?v3=df4c7b09ce
Any questions? Please do not hesitate to reach out! Cheers, Ivy